Trading stocks has become easier and easier in the past few years as more and more companies have piled into the online trading space.
©
Online brokers and spread betters all give you roughly the same things. You get live prices (or their own versions of live prices with widened spreads), some basic charts and buttons to buy and sell.
This is great for casual investors or those who prefer to rely on instinct, but successful investment tends to stem from meticulous research and analysis rather than simple hunches or guess-work.
A serious investor needs a serious investing tool box.
Below are 5 tools exclusive to ADVFN. Register now to try them out.
Trader Alerts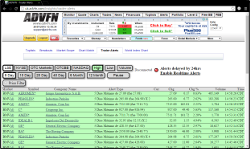 Stocks breaking through previous high or low values can represent excellent buying or selling opportunities, either piling in or getting out of Dodge.
Keeping track of one or a handful of stocks on your own is tricky. Spotting when those stocks break out of previous high or low levels is next to impossible.
With ADVFN's Trader Alerts all that is done for you, tracking the highs and lows of all stocks listed on LSE & AIM, NYSE, NASDAQ and the US Small Caps.
You can customise the tool to view just the companies you want and it is free to use. Just click here to give it a try (you'll need to register first, if you haven't done so already).
Markets in 3D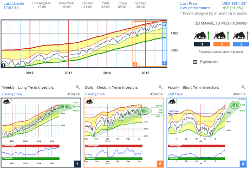 As the old investing adage goes, "The trend is your friend".
Stock prices often follow trends – if the price has gone up recently it may continue up or if it has gone down recently it may continue down.
ADVFN's Forex in 3D and USA in 3D tools spot trends for you and give buy and sell indicators on short-term, mid-term and long-term trades.
The first month is free on both tools so you can find out just how much of a difference they can make to your trading without any cost.
Chart Matcher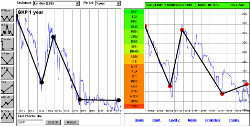 Investors often look for particular chart patterns. For instance, stocks that have been falling for a while, but have recently started to tick up.
Searching through hundreds of charts one by one looking for the right pattern is a sure fire way to go potty.
ADVFN's Chart Matcher tool finds stocks for you that have charts with similar shapes to whatever you draw or whichever template stock you enter.
Chart Matcher gives you a list of stocks in order of similarity and shows you their charts and how they compare.
If you're looking for stocks that conform to particular patterns this is the perfect tool.
Expert Analysis & Portfolios
Experience counts for a lot in the world of investment. Picking the best stocks and getting in and out at the best times is a mixture of art and science.
It helps a lot to have veteran investment artists and scientists on your side, keeping you up to date with what is happening in the markets and sharing their ideas, research and portfolios.
Some of the world's most influential financial writers have newsletters exclusive to ADVFN subscribers.
Clem Chambers' Diary of a Contrarian Investor and Tom Winnifrith's Hot Stock Rockets are two examples read by hundreds of traders and investors every day.
You won't find insight like this from your online broker.
Discussion Forums
This is where a site like ADVFN really shines.
You simply don't get decent, high quality discussion about stocks on online broker platforms. In fact you rarely get discussion at all.
We humans are social creatures. None of us want to exist in a vacuum, interacting only with the Buy & Sell buttons.
We all want to talk.
If your wife/husband/girlfriend/boyfriend/etc is anything like mine his or her eyes will start to glaze over at the mere mention of stocks. An in-depth discussion about the share price implications of the latest oil well spudded in some distant country is certainly not on the cards.
ADVFN is full to the brim with like-minded people, all of whom want to chat about the minutiae of the latest company news and what it means for their investments.
You're in the right place.
Conclusion
If investment was a road trip, brokers would be the car.
You can't do anything without the car, granted, but you won't make it to your destination without petrol or a map, which is where ADVFN comes in.
ADVFN gives you the fuel and navigation tools you need to make informed, successful trading decisions.
If you're reading this article you've already set off down the investment road. Let ADVFN take the bumps out of the ride with their exclusive trading and investment tools.
CLICK HERE TO REGISTER FOR FREE ON ADVFN, the world's leading stocks and shares information website, provides the private investor with all the latest high-tech trading tools and includes live price data streaming, stock quotes and the option to access 'Level 2' data on all of the world's key exchanges (LSE, NYSE, NASDAQ, Euronext etc).